Next Show
An Evening with
Richard Shindell
Thank You for Supporting Live Music!
Below you will find detail about all the shows in our 29th season - September 2016 through May 2017.
---
Show Times
Tickets are on sale from 6:30 PM the day of the show at the church - only cash at the door, no credit cards. Doors open to the public at 7:30 and shows start at 8:00. New Moon concerts typically offer two full sets by the featured artist, free parking, delicious homemade desserts , coffee (of course ), and other beverages for sale before the show and during intermission.
Call (978) 459-5134 for information and/or directions. You may also call the church at (978) 372-5173 on the day of the show.
Please understand that we reserve the right to change or substitute acts and dates. However, we promise to do so only under extraordinary circumstances!
---
September 17 (Saturday)

The Bombadils

The musical folk traditions of Canada, from the maritimes to the prairies, are beautifully shared by The Bombadils, a chamber folk duo from Montreal. They have received positive acclaim from audiences throughout North America and beyond. We are so glad now to welcome them to Haverhill.
Canadian maritimer Luke Fraser and prairie-girl Sarah Frank share a love of folk songs and fiddle tunes. Drawing from the Canadian, American, and Celtic traditions, the two pour the spirit of story-telling and kitchen parties into their own writing.
Luke brings guitar, mandolin and home-grown east coast vocals in harmony with Sarah's singing, lyrical fiddle playing and claw-hammer banjo.
Listen to these wonderful folk singer-songwriters online. and share with your friends to help us get the word out about the talented Bombadils bringing the wide spectrum of Canadian folk music to Haverhill for what promises to be a wonderful evening.
Opening Act: Goli opens
Vessela Stoyanova and Valerie Thompson team up as Goli to perform "chamber music for the modern era."
The music review site The Noise writes that these "...two women and their improbable instruments...draw from a world of dance traditions, from raucous Motown house party to that high and lonesome country twang, from odd-meter Balkan clogs to sultry tango." (-- The Noise http://thenoise-boston.com/2009/08/goli-294/)
Oct 15 (Saturday)

Kerri Powers
Kerri Powers performs passionate roots and soul music.
Calling all classic acoustic blues fans: If you have not seen Kerri Powers perform live, now is your chance. And if you're already a fan, you know she keeps on keeping it real and ever new.
No label can describe the amalgam of roots, country, blues, Americana, rock and folk genres combined with powerful effect in her own heartbreakingly honest original songs as well as in her re-imagined covers of golden oldies.
Listen to her slide guitar and masterful vocals in a solo performance of "Buttercup" - then share with your friends and reserve your tickets.

Nov 19 (Saturday)
Richard Shindell
Richard Shindell is best known for his brilliant thoughtful songwriting about people, passions and a smattering of national and international politics.
Originally from New York, now dividing his time between Buenos Aires, Argentina and New York's Hudson Valley, Richard Shindell is a writer whose songs paint pictures, tell stories, juxtapose ideas and images, inhabit characters, vividly evoking entire worlds along the way and expanding our sense of just what it is a song may be.
Although known primarily as songwriter, Shindell takes a more holistic view of his career. Producer, writer, singer, guitarist, interpreter: it all adds up to a life in music.
In the past, Richard Shindell's performances have filled our venue to its capacity. We welcome Richard Shindell back to the New Moon to the delight of his many fans old and new. Please reserve your tickets early, but if your plans happen to change, please let us know so that we may accommodate everyone.
Showtime: 8:00 PM
$25 Admission at the door, 18 and under half price at door.
Jan 21 (Saturday)

Mustard's Retreat and David Dodson and friends (double bill)

January's show will be a double bill featuring the duo Mustard's Retreat ( Mike Green and David Tamulevich) and David Dodson and friends.
Mustard's Retreat (David Tamulevich and Michael Hough) have performed more than 4,000 shows over those years, traveled more than 1 million miles and in doing so, have earned a dedicated and loyal following. Their shows represent an eclectic blend of music, old and new, with a big dash of storytelling.
David Dodson is a singer-songwriter based in midcoast Maine. He writes great songs that run the gamut of American styles-folk, rock, blues, jazz and country. They cover a variety of topics and range from poignant to hilarious. He plays a mean guitar, tells a good story, sings like a bird, and he's got rhythm.
Showtime: 8:00 PM
$20 Admission at the door, 18 and under half price at door.
February 18 (Saturday)
Rev. Robert Jones

Reverend Robert Jones performs Detroit blues. He is a renowned preacher, teacher, program presenter and touring bluesman.
In his more than twenty years of experience as a performer, musician, storyteller, radio producer/host and music educator, he has opened for and played with some of the finest musicians in the world.
Still, Robert considers his greatest honor to be his call to the gospel of ministry. He combines storytelling, vocals, instrumental music and artwork to explore and showcase the earliest known aspects of African American music and culture. In other words, Robert is looking to explore and share the music and stories that came before the Blues.
Opening Act: Martin Grosswendt and Susanne Salem-Schatz
Martin Grosswendt and Susanne Salem-Schatz perform country blues, bottleneck and finger-busting guitar, offered up with powerful voices, deep soul and wry humor.
Showtime: 8:00 PM
$20 Admission at the door, 18 and under half price at door.
Mar 18 (Saturday)

John Gorka

The New Moon welcomes the inimitable John Gorka, creator of more than 14 CDs and a loyal national following.
To quote a recent profile: "With a tangle of songs that emotionally connect us all and leave a tender trace, John Gorka stimulates the cerebrum, keeps our smiles agile and fit and reconnects us with what really matters most in music: honesty. His atmosphere allows for the listener to feel his individualized attention, his lyrical tenderness, his care for the guitar and his true presence." (Brian D'Ambrosio, Huffington Post)
A native of New Jersey, John Gorka now lives in Minnesota and when not on the road, he enjoys spending time with his wife and children. He continues to tour, playing festivals, theaters and clubs all over North America and Europe. Whether you're a longtime fan or have not yet heard John perform, either way reserve your tickets now and plan to be here with us in Haverhill on March 18.
Opening Act: Meg Rayne
Newburyport musician Meg Rayne has been singing and writing songs since childhood. She has performed solo and with many talented musicians in a number of genres, in addition to her work as a retreat leader and empowerment counselor. We are so glad she is returning to open for John Gorka, and we know you will love her as much as we do.
Showtime: 8:00 PM
$25 Admission at the door, 18 and under half price at door.
April 15 (Saturday)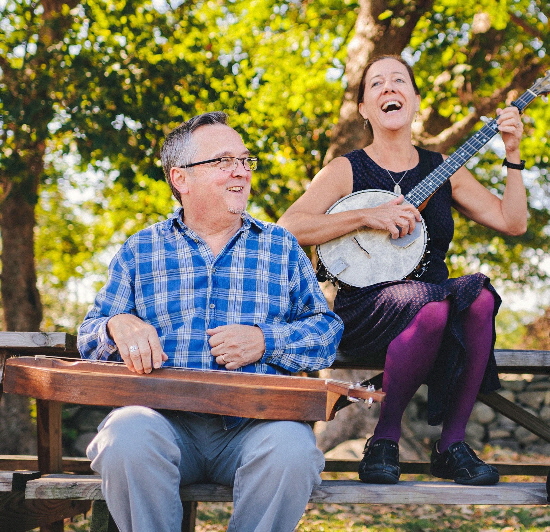 Atwater-Donnelly

Atwater-Donnelly are masterful performers of traditional and original music along with song, poetry and clogging.
The highly acclaimed husband-wife duo, Aubrey Atwater and Elwood Donnelly, present delightful programs of traditional American and Celtic folk songs, a capella pieces, old-time gospel songs, dance tunes, and original works. Elwood and Aubrey blend gorgeous and unusual harmonies and play guitar, Appalachian mountain dulcimer, mandolin, tin whistle, harmonica, banjo, bones, spoons, limberjacks, and other surprises including Appalachian clog dancing, French Canadian footwork, and Tap.
Their performance is appealing to all ages, and with humor, audience participation, and a relaxed stage presence, Aubrey and Elwood explain song origins to create a deeper understanding of the music and its cultural history.
Opening Act: The Vox Hunters
A folk group from Providence, Rhode Island, Armand Aromin and Benedict Gagliardi are musically bound by a shared love of traditional Irish music, which originally brought them together, as well as an eclectic and ever-growing amalgam of songs both inside and far outside the realm of 'folk music'. With a hand-crafted fiddle, a couple concertinas, banjo and a pair of complementary voices, The Vox Hunters present an exciting repertoire of driving dance tunes blended with an unorthodox collection of interesting songs and musical varia.
Showtime: 8:00 PM
$20 Admission at the door, 18 and under half price at door.
May 20 (Saturday)
To Be Announced
Showtime: 8:00 PM
$20 Admission at the door, 18 and under half price at door.